postal jeep dj5 dj5
I put the postal jeep dj5 web site together because I have always liked the postal jeep dj5. There is a good chance you may still see some in rural areas, there are not too many on the road anymore. If you are lucky, you might be able to pick up a used one at a good price. Please browse through this web site to learn about the postal jeep dj5 and the history behind the postal jeep dj5. I update the web site often, so check back soon!
.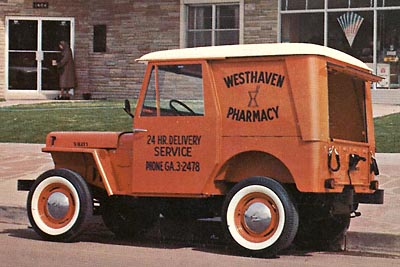 The Postal/Dispatch Jeep was made in two simple models, the DJ-3A (seen to the right) and the DJ-5. The DJ-3A was a flat fender Jeep similar to the CJ-3A except it was two wheel drive. It was produced from 1956 until 1965.
The DJ-5 came to life in 1965 and is which is the one most people are familiar with today. They also produced a longer version from 1965 until 1968, the DJ-6. The DJ-5 was made by Jeep into the early 1970s and production continued under AM General for many years.
What a great concept! A CJ3B to deliver the mail. This may have been a turning point in the process of creating the DJ3A, the first two-wheel drive version of the Jeep and the first postal jeep dj5.
In 1976 models remained reliable and repair was simple for the DJ-5E "Electruck" version. It weighed nearly twice that of a gas powered jeep, thanks to the hefty batteries.
DJ-3A (1955-64): Four cylinder L-head, three speed manual
DJ-5 (1965-67): Four cylinder L-head, three speed manual
DJ-5A (1968-70): Chevy four cylinder, Powerglide automatic
DJ-5B (1970-72): AMC 232 I-6, B-W T-35 three speed automatic
DJ-5C (1973-74): AMC 232 I-6, T-35 or M-11 automatic
DJ-5D (1975-76): AMC 232 I-6, 727 TorqueFlite automatic
DJ-5F (1977-78): AMC 232 I-6, or 258 I-6, TorqueFlite automatic
DJ-5G (1979): Audi 121 four cylinder, 904 TorqueFlite automatic
DJ-5L (1982): Chevy or Buick 151 four cylinder, Chrysler 904 transmission
CJ-8 (1984): Used in Alaska only 258 I-6, Chrysler 999 transmission
For buyers and sellers of used jeep parts and used jeep parts.
Title: Jeep Commander
Description: A source of information and pictures for the Jeep Commander.
Web Site: www.jeep-commander.com

Title: Used Jeep For Sale
Description: Sell your Jeep online. You can buy a used jeep also.
Web Site: http://www.used-jeep-for-sale.com
Check back often we are always adding more information on our web site.